Telemedicine is a service which can help a patient/doctor/hospital in a remote location to consult with a Super Specialist at Atreya Hospital, using ICT(Information and Communication Technology) for the purpose of Diagnosis , Treatment ,Second Opinion or follow-up. The delivery and facilitation of health and health-related services including medical care , provider and patient education , health information services and self care via telecommunications and digital communication technologies. 
High Quality Healthcare from the convenience of your home town.

Second opinion and complex interpretations.

Improves communications between health providers separated by distance.

Stay assured and feel confident with virtual support.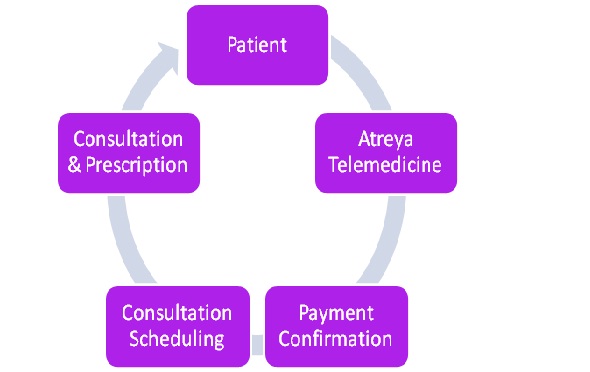 *The patient or relative contacts call centre and requests for a Specialist consultation. The call center staffs fix an appointment with the concerned specialist after payment confirmation.
*Patient details and reports can be sent electronically from the Remote site to atreya.telemedicine@gmail.com  and the call center staff forwards to the respective consultant.
*After the specialist (doctor) goes through this information, he/she talks to the patient and interacts with the patient remotely, through video conferencing. X-ray images, CT scan; MRI images can all be digitally manipulated by the consultant at his end. After a provisional telediagnosis is made, the opinion of the specialist is communicated to the patient at the remote end virtually. If required a prescription is also electronically sent to the patient. If further reviews are required, the above procedure is repeated.
Know Atreya Telemedicine App
Home Button used to go to Home screen
Meet   Button used to go to Consultation Screen
Join Button used for Video consultation
Upload Button used for Upload Patient history / Doctors prescription
Pay Button used for Online Payment